KROMBACHER is the new beer partner of ROCKHARZ!
Jun 13th, 2019 | von
Jan Wischkowski
|
For some it is important, for the others VERY important and for the third more important than anything else: which beer will run out of the tap of the ROCKHARZ festival in 2019?
Well, we would like to answer this question today: KROMBACHER will be beer partner of ROCKHARZ for the first time this year! The well-known and popular barley juice from the North Rhine-Westphalian Kreuztal valley will drip down the throats of the ROCKHARZ guests in an ice-cold pearling in three weeks' time and will provide a tasty refreshment.
In addition to fresh KROMBACHER Pils, which will be available at all festival outlets, the ROCKHARZ Mutantenstadl beer garden also offers other KROMBACHER brewery specialties; including KROMBACHER Dunkel, KROMBACHER hell and KROMBACHER Kellerbier.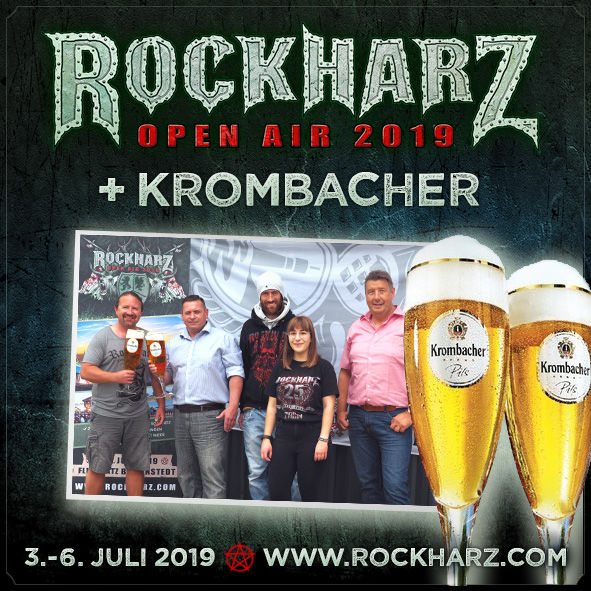 The photo shows:
Thorsten Kohlrausch (Geschäftsführer ROCKHARZ), Dirk Siwek (Gebietsverkaufsleiter KROMBACHER), Frauke Mahnke (Marketing ROCKHARZ), Tobias Richter (Gastroleiter ROCKHARZ) und Peter Fleischmann (Gebietsverkaufsleiter KROMBACHER)