News
Daily allocation of the bands and day tickets
We'd like to present to you the daily allocation of bands at the point "Running Order" in our menue. The bands are listed in alphabetical order. Please note that the daily allocation could be changed due to organisational or other reasons…. Read more

THE LAST BAND FOR RHZ 2019: HEIDEVOLK
Last time they played ROCKHARZ Open Air was in 2015 and they brought us a huge Pagan Metal fest. Their trademarks? Great melodies, lyrcs in their Dutch native language and their singing in two voices. We are glad to have those Dutchman who released… Read more
IMPORTANT NEWS ABOUT THE PRE-SALE FOR ROCKHARZ 2019!
The time has come! Almost all festival hard-tickets are sold out. Only a few tickets are available at local ticket agencies: at the tower of the airport Ballenstedt (phone: +49 39483-215) at the tourist information Quedlinburg (phone:… Read more

BILLING COMPLETE – THE 9 FINAL BAND FOR ROCKHARZ 2019
Spring is knocking on the door and the days until ROCKHARZ 2019 are melting constantly. Time to finalise the billing with a journey through the genres to present you the last nine bands. From soft to hard, from scene veterans to newcomers. Here we… Read more

Four times gloom at RHZ 2019
Today we announce the darkness. Four bands out of the gloomy part of our beloved genre will darken the sky over our stages at ROCKHARZ Open Air 2019 – including: COMBICHRIST Once founded as a studio project only, the band around creative… Read more

Four bands for RHZ 2019!
Dear ROCKHARZ Community, First of all: a happy new ROCKHARZ-year! It's getting pretty cold outside, so we're coming at you with some hot new announcements for July 2019! We give you four new bands: LORDI Monster costumes, horror movies, and… Read more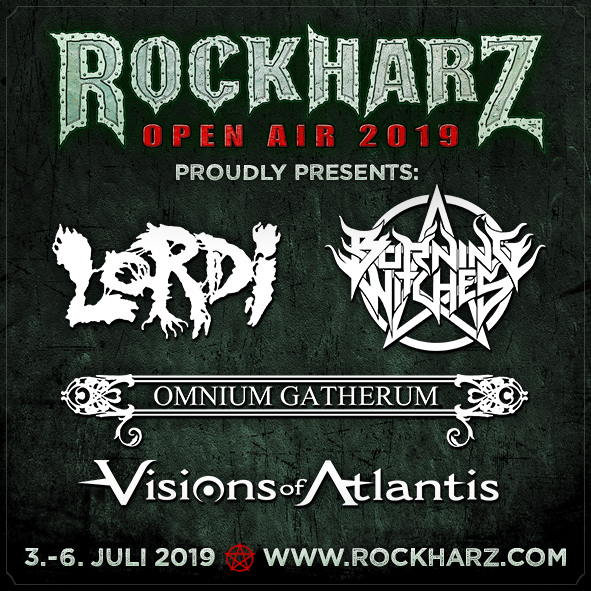 Alle News