The Foreshadowing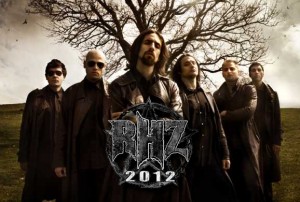 Back in 2005, Allesandro Pace, former guitarist of KLIMT 1918/Dope Stars Inc, founds a project called THE FORESHADOWING in Rome. Since THE FORESHADOWING is not a soloprojekt, Pace unites other well-known musicians, as his former band-member Davide Pesola (Bass-Guitar), Ex-SPIRITUAL member Francesco Sosto (Keyboard), former GRIMNESS-members Andrea Chiodetti (Guitar) and Jonah Padella (Drums).
Listening to THE FORESHADOWING, may remind you of MY DYING BRIDE, ANATHEMA or OPETH. Nevertheless, they create amazing sounds by combining a melancholic atmosphere of the music and the depressing, fragile voice of singer Marco Benevento. The Italian musicians released four albums in the last seven years.
We are very proud to present you THE FORESHADOWING on this year's ROCKHARZ.