Five bands confirmed at one go!
Dec 21st, 2015 | von
Jan Wischkowski
|
Before we enjoy the calm and contemplative days, we give you a blast and present five new bands at once for the ROCKHARZ 2016!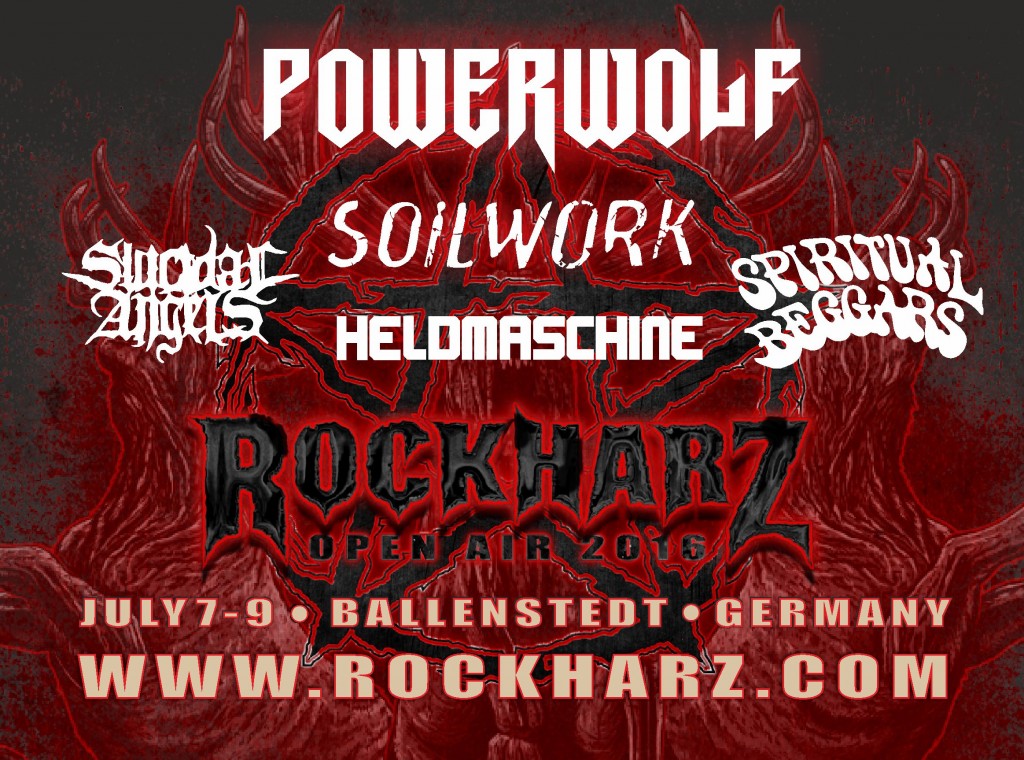 Number one: POWERWOLF!
According to legend, the band was founded by brothers "Matthew Greywolf" and "Charles Greywolf" in 2003. Anyway, at the latest after their sensational number one album "Preachers of the Night", the Power Metallers from Saarbrücken are one of German metal scene's top acts. They pampered your eares in 2014 last, now they return with their next chart success "Blessed & Possessed". Amen & Attack!
This time it shall happen: SOILWORK!
They wanted to come twice, but twice things got in between us and them. But as is well-known, all good things come in threes, and in 2016 it shall become! One of THE Swedisch Melodic Death Metal heroes will come to the Harz mountains, and they will bring their current album "The Ride Majestic" – SOILWORK!
The SUICIDAL ANGELS will be part of it, too!
It's time to get a refreshment lecture in headbanging – 'cause otherwise, it will be painful for your necks. The guys from Athens have been around for almost 15 years and with their latest album "Divide and Conquer" (2014) they proved again that their Thrash Metal is on the highest possible technical level, but not without exuding that legendary 80s flair. Ladies and Gentlemen, SUICIDAL ANGELS!
Also the SPIRITUAL BEGGARS are going to come to Harz mountains!
An allstar band that lives up to its name! Founded in 1991 by one of the most important metal guitarists, the Swedes' Heavy Rock/Stoner Metal is a very special treat. Get ready for Arch Enemy founder Michael Amott (ex-Carcass), Witt (Grand Magus), Sharlee D'Angelo (Arch Enemy, ex-Mercyful Fate), Per Wilberg (ex-Opeth) and Apollo Papathanasio (ex-Firewind): the SPIRITUAL BEGGARS are coming!
When we did our band poll, one name appeared over and over again, and so here they finally are: HELDMASCHINE!
Founded in 2008, HELDMASCHINE don't need to hide on the NDH dancefloor. On their current album "Lügen", the band has definitely said good-bye to all genre borders and offers an unexpected sound scope. We don't want to withhold this first-class spectacle of NDH, Industrial/Electro, and "Hard German Rock" from you – HELDMASCHINE!